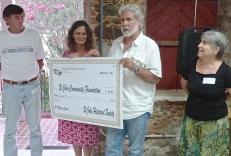 The St. John Historical Society recently signed a 99-year lease with the St. John Community Foundation and is moving forward with plans to construct a building to house its archives at the Estate Bellevue site.
"We need a conditioned space to house materials we have accumulated over the years," said Bruce Schoonover, who spearheads the fundraising drive.
The project will also include museum/exhibit areas well as meeting room space with room to expand for the future.
While the Historical Society already has slews of items stashed in a climate-controlled room at a member's house, the Historical Society needs to consolidate its materials so they're available after the members are gone.
Additionally, other organizations and people have offered important artifacts, photos, documents, maps and other historical collections that bring St. John's history to life, but since it has no place to store them, the organization has been unable to accept.
"Our fear is that by not being able to do that, w
e're losing important parts of the island's history," Schoonover said.
While caring properly for the archival material is important to preserve it for future generations, Schoonover said that the organization wants to make it available to the public so they can better understand the island's past.
The Historical Society hasn't completed its plans to develop an archive and meeting space. Schoonover said it needs to determine the size of the building, how much it will cost to equip it, and how they will endow it so it will be sustainable in the future.
However, the acquisition of 6,000 square feet for $1 a year at Bellevue is a good start. The property is home to early 18th-century ruins.
"As a condition of the lease, the area of the property that contains significant historic ruins is to be investigated by a professional archaeologist and then surveyed to delineate a mutually agreed-upon Historic Preservation Zone," outgoing Historical Society President David Knight said.
The Community Foundation was given the land by Reliance Housing, which built the adjacent Bellevue affordable housing area. Community Foundation Chairman Rob Crane said the Historical Society is the perfect organization to utilize the land that contains the historic ruins.
The organization has come a long way since its start almost 40 years ago by a group of snowbirds. A dozen years ago, the organization began publishing a newsletter, and over time it has shared almost 200 different articles and many pictures and illustrations depicting phases of the island's history.
Six years ago, the Historical Society established a website which features articles, presentations, and pictures of St. John and the Virgin Islands.
Three years ago, it published a book, "St. John Life in Five Quarters," which consists of 66 separate articles about St. John and some 167 historical pictures, illustrations and graphics.
Two years ago, it received a grant from the V.I. Humanities Council in order to complete an historic place names project, which drew together all available historical resources as well as current St. John elders who shared their knowledge with the society.
This year, the organization is developing an educational outreach program targeted toward the youth of St. John, with a goal of working with educators to design a series of classroom programs, field trips and activities which showcases the island's rich history.
The Historical Society's website, www.stjohnhistoricalsociety.org [2], provides a wealth of historical information about St. John.